The use of in-situ techniques in environmental monitoring has increased during the last years. However, there is an uneven level of experience and access to such techniques in the IAEA Members States. The IAEA has a vision that its Member States will eventually have in place a proper infrastructure and technologies for radiological characterization of the sites in a timely, safe and cost-effective manner. Aligned with this vision the INSITU Working Group was created within the IAEA Network of Environmental Management and Remediation (ENVIRONET), to produce a variety of products and services aimed at facilitating and increasing the exchange of information and experiences in the specific field of in-situ methods for characterization of sites. The ultimate goal of this group is to build capacity in the different IAEA Member States and to facilitate the full implementation of remediation projects.
This course is addressed to different stakeholders involved in environmental impact assessment and remediation: Public or stakeholder groups, educational institutions, junior professionals and graduate level, environmental monitoring laboratory specialists, managers, regulators, environmental remediation companies professionals, and emergency responders.
For additional information please contact: nsil@iaea.org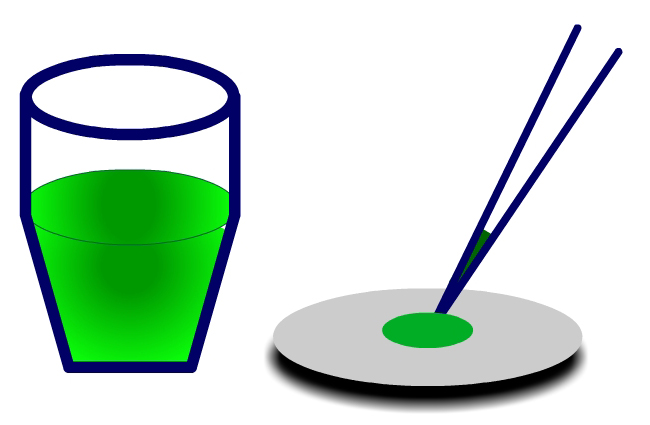 Total reflection X-rays fluorescence (TXRF) is a surface elemental analysis technique often used for the ultra-trace analysis of particles, residues, and impurities on smooth surfaces. Due to its exceptionally low detection limits, TXRF has been widely introduced in analytical practice, as a lower cost alternative to other analytical techniques.
This learning module is addressed to educational institutions, junior professionals and graduate level, environmental monitoring laboratory specialists, and other specialists involved in trace analysis of liquid samples. The goal of the course is to provide an introduction to the fundamentals of TXRF, as well as to the main specific features of this x-ray fluorescence technique.
This course was originally released as TCS-51 in the IAEA series Training Course – CD-ROM"  (https://www.iaea.org/publications/search/type/training-course-series-cd-rom).
For additional information please contact: nsil@iaea.org
X ray spectrometry techniques are nowadays widely used in many analytical applications. The different interactions of x rays with matter have served to provide useful information for comprehensive characterization of materials, including: Elemental composition (X ray characteristic emission); Mineral composition (X ray diffraction); Chemical speciation (X ray absorption near edge spectroscopy); Density (X ray attenuation and phase contrast tomography); Spatial distribution of elements (micro and confocal X ray fluorescence, X ray selective absorption tomography); and Characterization of layered structures (X ray reflectometry, grazing incidence x-ray emission).
This course aims at introducing the reader to the fundamentals of several X ray spectroscopy techniques. Due to the common need for elemental composition analysis, emphasis is made on Energy Dispersive x-ray Fluorescence, which constitutes an affordable option for IAEA Member States laboratories. This course is addressed to specialists and managers of laboratory facilities willing to incorporate X ray spectroscopy techniques into their research and services. Managers will benefit from general knowledge on the capabilities, advantages and limitations of the techniques. The infrastructure required for the implementation can be identified, as well as the needs for specialized training and capacity building. Specialists working in applied research and analytical services will learn on the capabilities of the techniques for different applications and analytical tasks.
For additional information please contact: nsil@iaea.org 
The objective of the course is to increase human capacity building in Neutron Activation Analysis (NAA), as well as to contribute to the overall sustainability of the technique. The e-learning tool is directed at young specialists or beginners without sufficient experience of conducting NAA independently, and it covers all aspects of NAA.
The course can also be used by experienced practitioners who want to implement  or use another variety of NAA, professional technicians and analysts, users of NAA and other stakeholders who wish to understand the techniques better, professors teaching nuclear sciences and applications & nuclear analytical techniques, undergraduate and graduate students interested in nuclear sciences and applications & nuclear analytical techniques, and facility managers or supervisors who have to make decisions for an NAA system at their neutron source.
Product of TCAP. The development of this e-learning was supported by the IAEA Technical Cooperation Department through projects RAS0075, RAF1005, RER1016 and RLA1012
For additional information send an email to RRAppl.Contact-Point@iaea.org - please mention the IAEA NAA elearning.
Neutron and ion beam nuclear analytical techniques have provided unique information in many fields due to their multi-elemental sensitivity, low limits of detection, ability to provide spatially resolved and/or quantitative profiling of trace elements, and, very often, traceability of results.
Although these analytical techniques are readily available and routinely applied in research, there is still a considerable gap when it comes to routine forensics applications.
The purpose of this e-learning tool is to help to bridge the gap between the practitioners of nuclear analytical techniques and forensic science stakeholder communities. It is directed at forensics specialists who wish to learn more about nuclear analytical techniques, and at nuclear techniques practitioners who wish to learn more about the requirements of forensic sciences.
This tool is an output of the Coordinated Research Project F11021 "Enhancing Nuclear Analytical Techniques to Meet the Needs of Forensic Sciences.
For additional information please contact: N.Pessoa-Barradas@iaea.org or Aliz.Simon@iaea.org